The Art of Mindful Living
You Can't Stop The Waves, But You Can Learn To Surf
THE ART OF MINDFUL LIVING is a powerful and user-friendly guide to the life-liberating art of mindfulness meditation.  Each chapter illuminates an inherent aspect of a skillfully applied mindfulness practice and describes how to cultivate these qualities both in sitting meditation and in daily life. It includes a section dedicated to working with difficult emotions, in which Tobin describes a compassionate and deeply authentic way to heal and liberate ourselves from the painful, repetitive waves of feeling that can run so rampant in our lives. The Art of Mindful Living is written both for people very new to the path of mindful awareness and for seasoned meditators ready for a booster-shot of clarity, compassion and inspiration.
TOBIN ZIVON has wholeheartedly dedicated himself to spiritual awakening and serving others in the blossoming of their highest potential for over two decades.  In his mindfulness based work with groups, couples and individuals, he utilizes a variety of potent and creative means to bring about embodied, joyful transformation.  He currently lives in Maui, Hawaii, a base from which he serves people around the globe.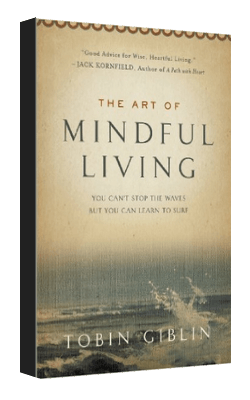 "Good Advice for Wise, Heartful Living."
– Jack Kornfield
Author of A Path with Heart

"In this simple yet potent book, Tobin integrates the perenmial insights from the wisdom traditions, making them accessible to life, right here, right now. He offers a way toward greater joy, authenticity, intimacy and open-hearted connection to oneself, others and life. In The Art of Mindful Living, Tobin brings the dharma alive with fierce authenticity and a deeply loving heart."
– Shauna Shapiro
Author of The Art and Science of Mindfulness

"

Cowabunga! The Art of Mindful Living is filled with ancient teachings of awakening.
Tobin does a great job of translating and making accessible these deep and simple traditions."
– Noah Levine
Author of  Dharma Punx and Against the Stream

"Highly recommended!"
Tobin's book is full of helpful, practical guidance and encouragement. A clear and straightforward guide to being present with yourself and your emotional experience even when you are most tempted to flee."
– John Welwood
Author of  Perfect Love ~ Imperfect Relationships

"I have known Tobin for nearly two decades, and watched his growth and development as a therapist, writer, teacher, and enthusiastic supporter of others' growth. I have great admiration for his diverse range of skills as a catalyst of evolution, creativity as a conveyor of spiritual dharma, and deep care about human beings and supporting their potential in creative and intelligent ways. Anyone would benefit from his work!"
– Mariana Caplan
Author of Eyes Wide Open, Halfway Up the Mountain, and Do You Need a Guru?